National American Red Cross Founder's Day!
5/21/2018 (Permalink)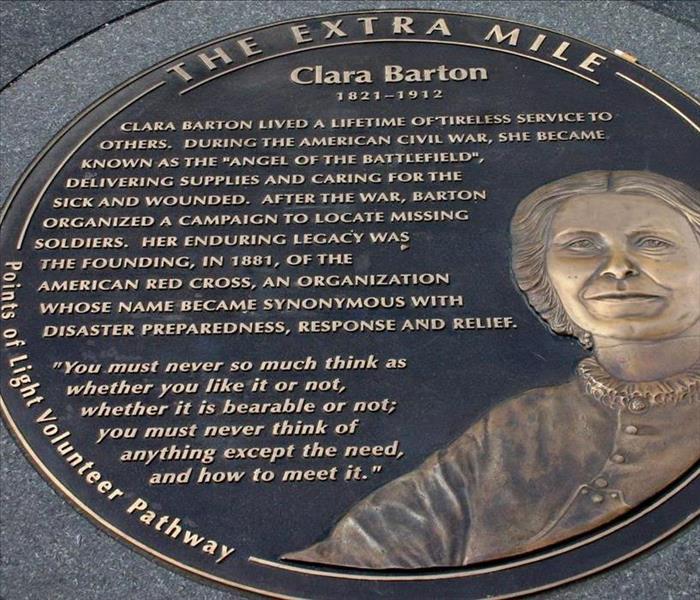 On May 21, National American Red Cross Founder's Day marks the anniversary of the American Red Cross, which was founded in 1881, by 60 year old Clara Barton - the first president of the organization. Clara Barton was working in the U.S. Patent Office in Washington, DC when the Civil War began. Like many women, she helped collect bandages and other much-needed supplies, but she soon realized that she could best support the troops by going to the battlefields. Throughout many major battles of the war, she nursed, comforted and cooked for the wounded, earning the nickname the "Angel of the Battlefield."
When her service to the Union soldiers was complete, Barton traveled to Europe.
While in Europe, Barton volunteered her time working with the International Red Cross during the Franco-Prussian War. Upon returning to the United States, she was determined to bring the Red Cross to America. In 1881, the American Red Cross came into being. Barton administered the organization for the next twenty-three years.
The American Red Cross is a humanitarian organization which offers support inside the United States and is the designated affiliate of the International Federation of Red Cross and Red Crescent Societies.
In addition to domestic disaster relief, the American Red Cross which is headquartered in Washington D.C., and presided over by volunteers now offers services in five other areas:
Community services to help the needy
Communications services and comfort for military members and their families
The collection, processing and distribution of blood and blood products
Educational programs on preparedness, health and safety
International relief and development programs
SERVPRO of Poway / Rancho Bernardo is happy to be a proud supporter of the American Red Cross Disaster Responder program.
For more information on Clara Barton and the American Red Cross – you can visit http://www.redcross.org/about-us/who-we-are/history